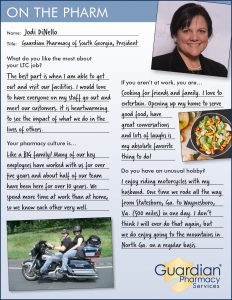 Why are you passionate about LTC Pharmacy?
Growing up I had a very close relationship with all four of my grandparents. I think about them every time I talk to a resident, caregiver or family member. It brings me joy to know that we are improving the lives of our customers every day. We package medications in easy-to-use systems which helps the nursing staff give medications to the right resident at the right time of day, in the right dose. This allows caregivers more time to spend with the residents than worrying about medications. Getting medications as prescribed helps improve the lives of our patients. Also, we work directly with the families of our patients to ensure claims are filed correctly with insurance, helping each patient get the best value possible. I hope my customers know that I truly care about each and every one of them.
What do you like most about your LTC job?
The best part is when I am able to get out and visit our facilities. I love meeting the staff and residents. It helps so much to put a face with the voice on the phone. I would love to have everyone on my staff go out and meet our customers at the facilities. It is heartwarming to see the impact of what we do in the lives of others.
Your Pharmacy culture is… 
Our pharmacy is like a BIG family! Many of our key employees have worked with us for over five years and about half of our team have been here for over 10 years. We spend more time at work than at home, so we know each other very well. We celebrate weddings, baby showers, birthdays and anniversaries together. Many people talk about having a family culture, but we are truly one big family at our pharmacy.
If you aren't at work, you are…. 
Cooking for friends and family. I love to entertain. Opening up my home to serve good food, have great conversations and lots of laughs is my absolute favorite thing to do!
Do you have an unusual hobby?
I enjoy riding motorcycles with my husband. One time we rode all the way from Statesboro, Ga. to Waynesboro, Va. (500 miles) in one day. I don't think I will ever do that again, but we do enjoy going to the mountains in North Ga. on a regular basis.
If I could have dinner with one famous person from any period in history, who would it be? 
Walt Disney. He was such a visionary and creative genius. I would love to pick his brain and find out what inspired him. He was a great motivator and has brought so much happiness to others.