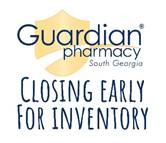 Guardian will be closing at NOON on Tuesday June 30, 2020 for quarterly inventory.
Please order refills by Monday, June 29 at 12 p.m. to ensure the best, most efficient quality of service.
IF AN URGENT MEDICATION NEED SHOULD ARISE, YOU MUST CALL & SPEAK TO A MEMBER OF THE PHARMACY STAFF.
We will resume our normal delivery schedule the next business day.
Please check stock remaining on any non-cycled medication or supplies that you may need for your residents including the following items:
Incontinence Products
Controlled Drugs
PRN Medications
Creams, Lotions, Topicals
Eye/Ear drops
Nasal Medications
Inhalers/Breathing Medications
Insulin/Diabetic Supplies
Refrigerated Medications
Liquids/Patches
Medications in blister cards
Thank you and Have a Great day!
Guardian Pharmacy Staff